How to Stream Video Audio to iPhone 6S/6/5S/5/4
Apple iPhone 4 used to sweep the board among mobie phone wars on the market which offers enhanced performance, a lovely new display, and an improved design comparing with the old editions. But now is the era of iPhone 6S, and iPhone 7 is coming soon! iPhone consumers have been faced a popular dilemma when acquiring more storage capacity for watching video and listening music on iPhone 6S. In this case, shall we get any solution to stream video and audio from our PC or Mac to iPhone 6S to get rid of the 32GB capacity limitation?
The other disadvantage of having iPhone 6S is that we can't play all videos on iPhone 6S in other words, it happens sometimes that you come across a cool video while accessing internet such as AVI, WMV, MKV, FLV etc but you can't playback on your iPhone 6S because Apple iPhone 4 doesn't support these. Shall we expect one video converter alternative tool to do the video streaming job on the fly instead of converting all the video over and over again?
Air Playit: Streaming video and audio to iPhone 6S
As a free video streaming app, Air Playit provides a simple solution to stream any video and audio to iPhone 6S. Air Playit works by running a server application on the computer, which detects your media files. Using a client application on the iPhone 6S you have full access to your movie and music library enabling you to stream video and audio to iPhone 6S.
How to stream video and audio to iPhone 6S with Air Playit
Step one: Download and install Air Playit Server for free. Navigate to the Air Playit webpage to download Air Playit server.
Download and install Air Playit Client for free. You may also visit AppStore from your iPhone 6S or search for Air Playit in iTunes.
Step Two:Configure Air Playit Server. Open the Air Playit Server once the installation is complete. Select "Add Folder"; to navigate to the folder where your movies and music are located. Adding premade iTunes playlists is also possible.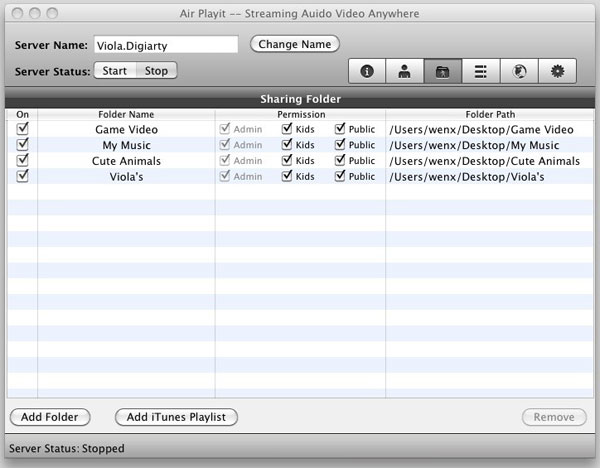 Step Three: Configure Air Playit Client. Open the Air Playit Client application on the iPhone 6S. Click the "+" in the upper left corner of the application to add your server. If sometimes the client app can't find the Bonjour connection information, you need to specify the server address manually or close the firewall for a try.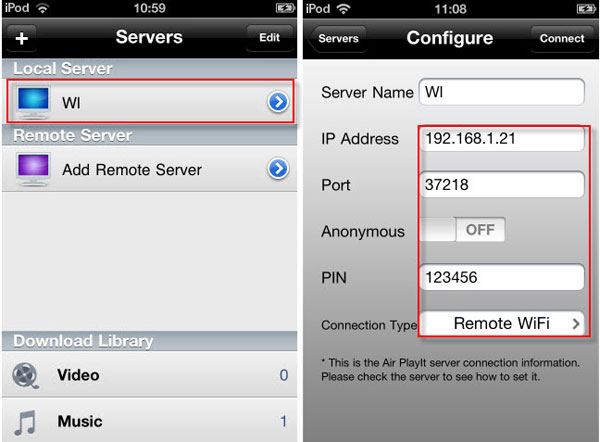 Step 4: Browse the folders under the server, Click "Play" to watch the video. If the video format is not supported by iPhone 6S, it will convert the video on the fly automatically, no need to wait before watching.
Besides the features of streaming video to iPhone 6S, this free app also has the ability of streaming audio to iPhone 6S. It will automatically cache the music when it is played on you device for the first time. You can play the cached music on your iPhone 6S when you have no network connection.
Just select a MP3 music or audio file that have been shared by Air Playit server and play it. It will automatically stream MP3 music to iPhone 6S when you are listening.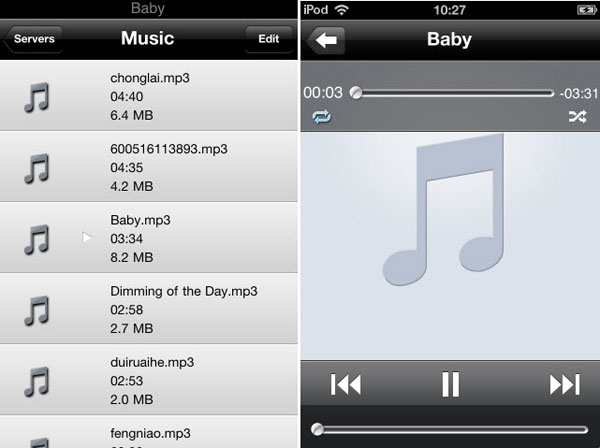 The "streaming" feature is the basic function which you may find the same from Air video, Streamtome however, Air Playit far transcends the others in its unique features which enables user to download videos to portable devices by clicking Download to iPod touch, Download to iPad, Download to iPhone. If the video is not in the format supported by iOS devices, you can convert the format first by offline conversion. It is a great solution to enjoy videos offline instead of using WiFi/3G/4G bandwidth.
Recommended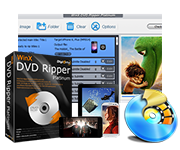 WinX DVD Ripper Platinum can rip DVD to digital formats like MP4, H.264, AVI, WMV, MOV etc., backup DVD to a single MPEG2 file with no video/udio qulity sacrifice on Windows (10) PC/Mac. So that you can stream DVD movie to iPhone/iPad/TV with Air Playit perfectly.
Related Article
Now streaming videos from PC to iPhone iPad with Air Playit has been considered as the best method to watch videos on iDevice pioneers. With Air Playit, you can remotely and instantly play all videos from your PC on iDevice via WiFi, 3G, 4G networks without long time conversion and USB wire to sync.
What could we do if we have a large collection of music on Mac OS X Leopard/Snow Leopard/Lion and don't want to load our iPhone iPad up with all the music? Is it possible to remote access our latest updated music library wirelessly when we're at the airport and the iTunes's not available? Air Playit will give you answers.
While you are intoxicated by the new features of iPad 3 such as superlative retina display, quad-core graphics A5X processor and 5 megapixel iSight camera, a free personal audio video cloud for the new iPad 3 can further facilitate your music movie enjoyment.