How to Play WMV AVI MPEG on iPhone iPad without Waiting and Sync
There has been quite a bit of buzz around iPhone and iPad from digital lovers the entire world. However, they are limited in capacity to store too many video files, and they only support MP4, MOV, H.264 videos. Therefore, users are possibly unable to play WMV AVI MPEG on iPhone iPad easily.
For example, when you want to play WMV on iPhone iPad, in most cases, you are suggested to install a video converter on PC/Mac, convert it to formats compatible with iPhone/iPad, wait until the whole video is converted, sync it to the device, and at last you have to delete it when your device's internal memory is full.
Luckily, Apple fans have a new solution now - streaming the video to iPhone iPad wirelessly with Air Playit. With this app, users can remotely view any videos stored on PC or Mac using iPhone, iPad via Wifi, 3G or 4G network. The videos are converted on the fly so you do not need to convert them beforehand. Besides, the videos are not saved on the devices to occupy no storage space on the devices. You can now play WMV on iPhone iPad immediately with Air Playit or use this for streaming AVI to iPhone iPad, MPEG to iPhone iPad etc and do not need to worry about the storage issue.
How to play WMV AVI MPEG on iPhone iPad with Air Playit?
Before streaming MKV AVI MPEG video to iPhone iPad, please download Air Playit server to and install PC/Mac and client app to iPhone or iPad.
Step one: Run the server and add video files to share. Click "Shared folders", and then click "Add Folder" to add MKV AVI MPEG video folders from your local hard drive.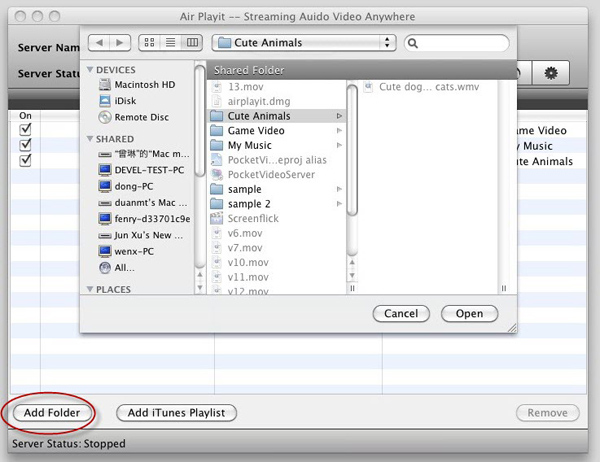 Step Two: Run the client app and add your server. If sometimes the client app cannot find the Bonjour connection information, you can tap "Add Remote Sever" to specify the server address manually or close the firewall.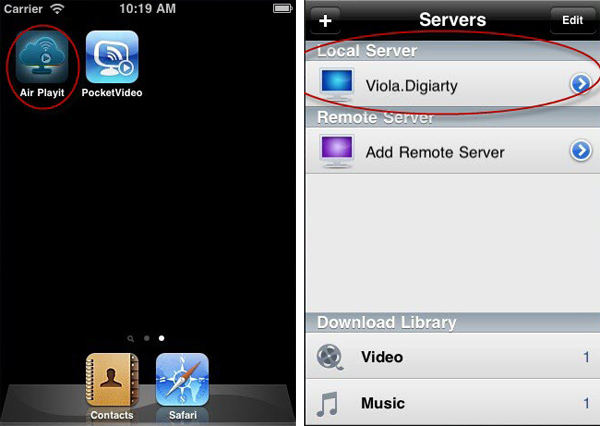 Step Three: Browse the folders under the server, click "Play" and you can play WMV video with iPhone iPad immediately and realize streaming AVI MPEG video to iPhone iPad without waiting for the conversion or sync.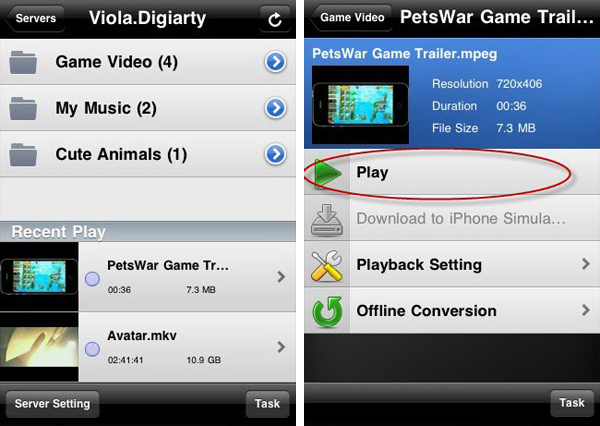 Related Article
Feel inconvenient to sync MP3 music from PC/Mac or iTunes Playlist to iPhone? Air Playit can help you put MP3 music to iPhone without sync by streaming MP3 music to iPhone iPad.
iPhone iPad fans can stream MKV HD video on the fly with Air Playit. It is a video streaming App for streaming MKV to iPhone, iPad running no CPU. Here is a detailed of streaming MKV HD video to iPhone iPad.