How to Watch M2TS TS on iPhone iPad without Conversion & iTunes?
As we known, M2TS and TS files are commonly from Blu-ray Disc, JVC, Canon, Panasonic, Sony Camcorders, etc. But they can not be directly played on iPhone iPad. To watch M2TS, TS videos on iPhone iPad, usually, we need to convert M2TS, TS video to iPhone iPad compatible video formats and then sync converted videos to iPhone or iPad with iTunes.
However, we often face the following troubles:
1. It will account for large storage, even affect the performance if we keep a lot of videos on iPhone iPad.
2. It takes long time to convert and sync video with iTunes if M2TS file is large.
Therefore, it would be greatly perfect if we can watch M2TS TS video on iPhone iPad without conversion and iTunes.
Here I will introduce a free video streaming application that can help you get rid of the above troubles. That is Air Playit which is able to stream M2TS TS videos on your computer to iPhone iPad via WiFi, 3G and 4G network. Thus, you can remote view M2TS TS video on iPhone iPad, instead of converting M2TS TS to iPhone iPad, syncing to iPhone iPad to take up storage. So Air Playit is the ideal solution for you to watch M2TS TS on iPhone iPad without conversion and iTunes.
Guide to Watch M2TS TS Video on iPhone iPad with Air Playit.
Before streaming M2TS TS video to iPhone iPad, please download & install Air Playit server to PC/Mac, client app to iPhone or iPad.
Step one: Run Air Playit server on your computer and click "Add Folder" to add M2TS TS video to Shared Folder.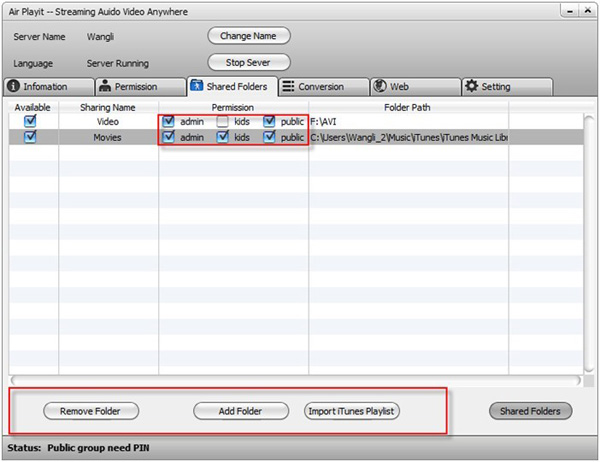 Step Two: Run Air Playit app on your iPhone, iPad and add your server. If sometimes the client app can't find the Bonjour connection information, you need to specify the server address manually or close the firewall for a try.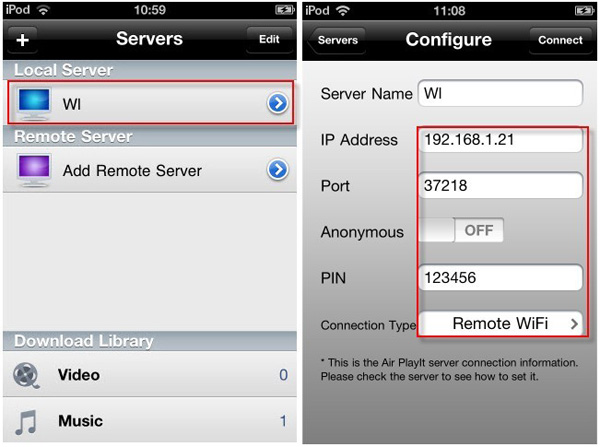 Step Three: Browse the folders under the server, Click "Play" to watch M2TS TS video on your iPhone iPad.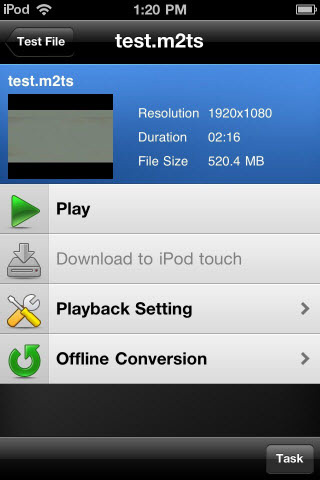 In addition, it is able to remember the last play point of each video and automatically list the recent played videos so that you can view videos from that point or play these videos again from recent playlist.
Related Article
Feel inconvenient to sync MP3 music from PC/Mac or iTunes Playlist to iPhone? Air Playit can help you put MP3 music to iPhone without sync by streaming MP3 music to iPhone iPad.
iPhone iPad fans can stream MKV HD video on the fly with Air Playit. It is a video streaming App for streaming MKV to iPhone, iPad running no CPU. Here is a detailed of streaming MKV HD video to iPhone iPad.