Free Download the New iPad 3 Audio Video Cloud – Air Playit
Apple has finally unveiled the long anticipated new iPad (iPad 3) release date which will hit the world stores on March 16th.
The new iPad 3 is more accurately the third-generation iOS tablet. While you are intoxicated by the new features of iPad 3 such as superlative retina display, quad-core graphics A5X processor and 5 megapixel iSight camera, a free personal audio video cloud for the new iPad 3 can further facilitate your music movie enjoyment.
Functions and Features of the New iPad 3 Audio Video Cloud
The principle of the Air Playit is generally as follows: Adopting the advanced technology called multimedia streaming technology, this freeiPad 3 audio video cloud transmit audio/video data in compressed form over air through 3G at high speed, 4G or Wi-Fi, stream audio video to the new iPad 3 continuously and steadily and finally display the streamed audio video file by taking the new iPad or other iOS device as simply a display device.
The whole process is not even related to Apple iPad/iPad 2/iPad 3 except for its use for instruction making, remote control and display. That means all the audio video files available and displayable on your iPad 3 will take no space of the iPad device at all! So you can play as much as you can without the need of deletion and storage.
The Advantages of Air Playit as a Personal Audio Video Cloud for iPad 3
* Enjoy HD video on iPad 3
* Play any songs, movies and videos at any time and place
* Access home video/music library built in advance
* No iTunes required
* No video conversion process needed
That is to say, with Air Playit, you can stream and play HD, standard or encrypted videos such as MKV, AVI, WMV, MPEG, FLV and DRM on Apple iPad 3 instantly without the process of synchronization by iTunes and conversion by other video converter. Moreover, the offline conversion function of this iPad 3 audio video cloud server can even enable you to watch movies and listen to the music without network connection.
How to Download and Use the Personal Audio Video Cloud for the New iPad 3
Download:
Everyone can free download Air Playit Server in either Windows or Mac version at http://www.airplayit.com/
Visit here to get iPad corresponding QR Scanner Code. Free download Air Playit Client for iPad 3 from App Store
Operate:
Step 1: Run Air Playit Server on your PC or Mac, add any videos or music to "Sharing Folder" of the cloud server. Do make sure your server is in start status. You can set permission rate as Admin, Kids and Public for any audio video file.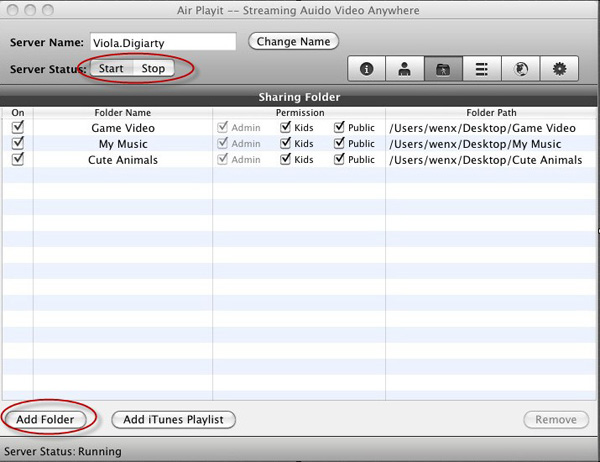 Step 2: Run the App Client of the audio video cloud when you want to access your home audio video library and play music or video on your iPad 3. Enable network connection. Find local network with the help of Bonjour Server of Air Playit automatically and specify remote IP address manually.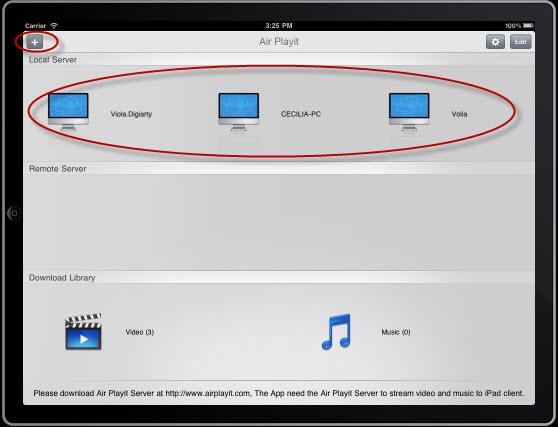 Step 3: After entering the useable server, access the audio video folder you added, choose any audio video file you are interested in, and play it instantly without waiting!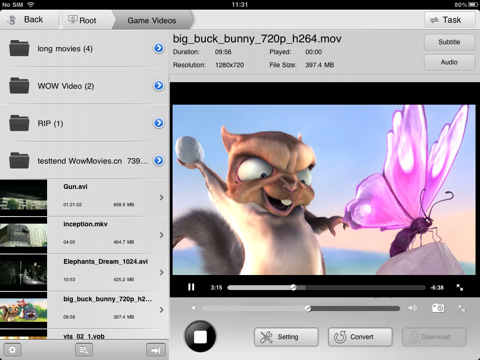 Tips: This iPad3 audio video cloud can also stream video and music to iPad, iPad 2, iPhone, iPod Touch, etc. The iPhone and iPod clients are also available in iTunes.
Related Article
You cannot play HD camcorder recorded videos on iPad iPhone directly because they are always AVCHD videos with the file extension of "MTS" or "M2TS". But you can stream AVCHD Video to iPad iPhone directly and conveniently.
Is it possible to watch Disney protected DVD movies on iDevice? Definitely yes! You can stream Disney protected DVDs to iPad iPhone as many as possible by virtue of Air Playit App and WinX DVD Ripper Platinum.
Watch your HTPC video/music on iPad iPhone? Yes, Air Playit well serves the needs of people on business trip or commuting by streaming video music from HTPC to iPad iPhone.