Streaming 720p/1080p video –Watch HD Videos on iPhone iPad Instantly
720p and 1080p are the shorthand identification for a set of HDTV video modes having a resolution of 1280×720 and 1920×1080 separately. Owe to high definition video effect, they are widely used in movie industry, online content and HD camcorders. So much HD videos we have are 720p or 1080p videos, such as MKV, M2TS, AVCHD, TP, MPEG-TS, EVO,, AVC, MOD, HD YouTube, etc.
Usually we are used to watching videos on computer when you are at home. Maybe it is much better to watch videos on iPhone, iPad when you are at the airport, during commuting. But 1080p videos and some 720p videos can not be played on iDevice because of incompatible video formats. How to stream 720p/1080p video? To enjoy 1080/720 videos from computer on iDevice, many people will convert videos to iDevice compatible video formats, and then sync with iTunes.
However, we often face the following problems:
1. Take long time to convert videos and sync with iTunes if video file is large.
2. Inconvenient to use USB wire to connect iDevice for syncing.
3. Account for large storage if we keep a lot of videos on iPhone iPad.
To solve these problems, Air Playit will be the best choice for you. It is a free video streaming application which is capable of wirelessly streaming 1080p/720p videos to iPhone iPad via WiFi, 3G, 4G network so that you can instantly watch videos from computer on iDevice without long time conversion and USB wire to sync.
How Does Air Playit Work to Stream 720p/1080p videos to iPhone iPad?
Air Playit is composed of Air Playit Server (installed on PC/Mac) and App Client (installed on iDevice). Air Playit Server is mainly for you to set "Shared Folder", access permission, video conversion and stream vidoes. App Client is often used to remotely control and watch videos from server.
Guide of Streaming 720p/1080p Videos to iPhone iPad?
The preparation before streaming 720p/1080p videos is to download Air Playit Server and App client. Air Playit Server has both Mac and Windows version. Please download your wanted version according to your computer. Here I take Windows version of Air Playit Server and iPhone app client for example.
Step one: Install and run Air Playit Server on computer. You can add videos to "Shared Folder" so that you can stream these 720p/1080p videos to iPhone.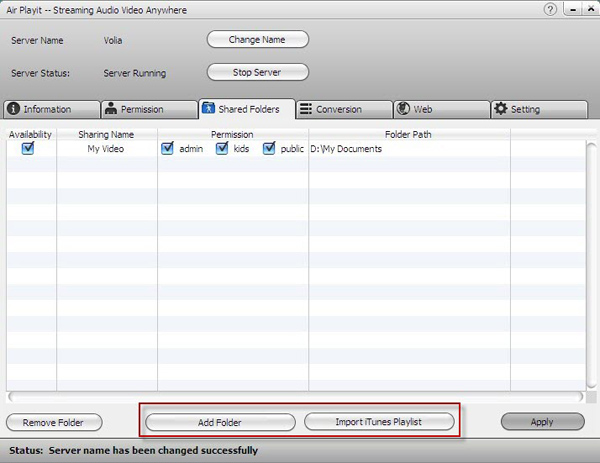 Step Two: Install and run App client on iPhone, and add your server. Client app can automatically discover the local server by Bonjour Server. If sometimes the client app can't find the Bonjour connection information, you need to specify the server address manually or close the firewall for a try.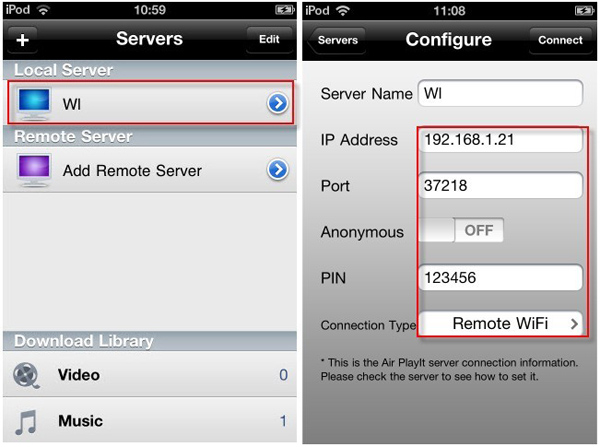 Step Three: Browse the folders under the server, click "Play" to watch movies on iPhone. Of course, you have successfully streamed 1080p videos to iPhone.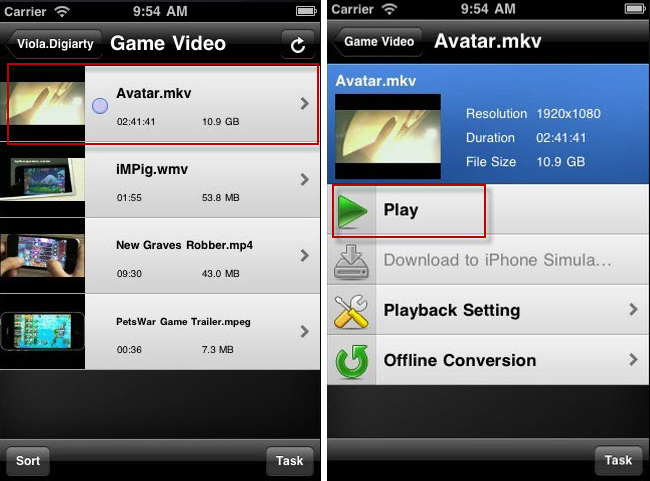 Recommended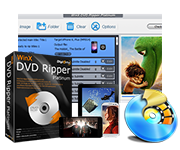 WinX DVD Ripper Platinum can rip DVD to digital formats like MP4, H.264, AVI, WMV, MOV etc., backup DVD to a single MPEG2 file with no video/audio qulity sacrifice on Windows (10) PC/Mac. So that you can stream DVD movie to iPhone/iPad/TV with Air Playit perfectly.
Related Articles
Just imagine, all of your videos are stored on your Mac or PC at home, and you access them via an app on your iPhone iPad. And instantly the capacity of your iPhone iPad becomes infinite. How to realize it? Here is your answer.
Want to be able to remotely access it and watch the videos when you are not at home or just get ready of taking off in the airport? Here is the step-by-step guide of adding remote server to get remote access working.
Want to watch TS TS videos on iPhone iPad without conversion and iTunes to sync? Streaming M2TS TS to iPhone iPad via WiFI, 3G and 4G network, you may remotely enjoy M2TS TS video on your home computer.