Streaming DivX Xvid Video to iPad iPhone over WiFi, 3G and 4G Network
Both DviX and Xvid are popular video codec that can compress video with a high compression rate while still keeping a good visual effect. Thereby, People not only watch DviX Xvid video on their PC or Mac, but also want to play DviX Xvid video on iPad iPhone when they are not before the computer.
In order to watch the DviX Xvid video on iPad iPhone, people are advised to choose the conventional and time-consuming practice. They run a video converting software to convert DviX Xvid video to iDevice-friendly format H.264 or MPEG-4 and then spend long and dull time in syncing the video.
In fact, things will be much less complicated if you choose a new way. That is, streaming DivX Xvid video to iPad iPhone with Air Playit .This free video streaming software can remotely access the DivX Xvid videos and live convert them video while streaming them directly to your iPad iPhone over WiFi, 3G and 4G network, so that you can watch DivX video and play Xvid video on iPad iPhone directly without conversion or sync.
The tutorial of streaming DivX Xvid Video to iPad iPhone using Air Playit
First of all, please download Air Playit and install Air Playit server on your computer (both Mac and Windows are available) and Air Playit client app on iPad or iPhone. And before you start streaming DviX Xvideo video to iPad iPhone, make sure that your device is connected with WiFi, 3G or 4G netwok.
Step one: Launch Air Playit server and add the video folder. Click "Shared folders" tab and then "Add Folder", browse the DivX or Xvid video that you need to play on iPad iPhone.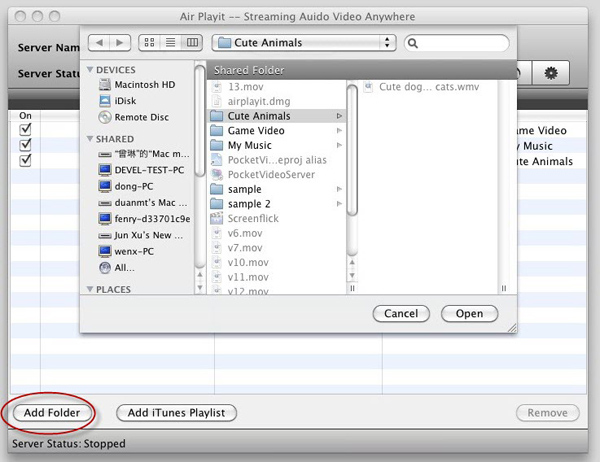 Step Two: Run the client app on your Apple device, and add your server. Air Playit can discover the server by Bonjour Service. If it fails, you can close the firewall or tap "Add Remote Sever" and input the required information like IP address, Port, etc manually.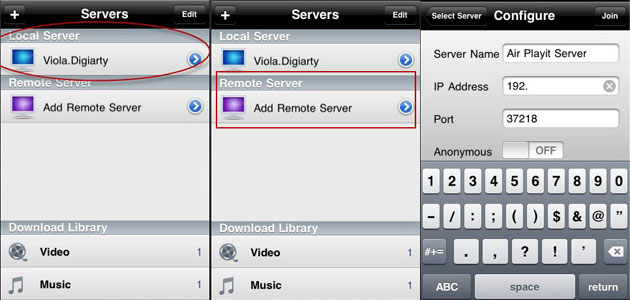 Step Three: Browse the folders below the server, click "Play". Now you finish all the steps of streaming DivX Xvid Video to iPad iPhone .Just watch DivX video and Xvid video on iPad iPhone right away.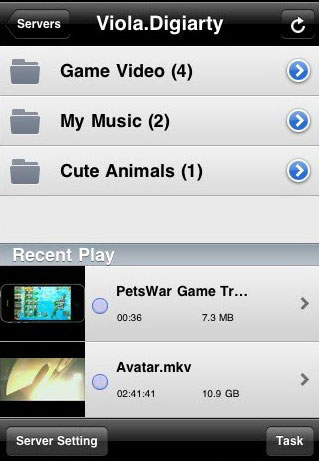 Recommended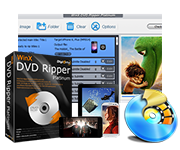 WinX DVD Ripper Platinum can rip DVD to digital formats like MP4, H.264, AVI, WMV, MOV etc., backup DVD to a single MPEG2 file with no video/audio qulity sacrifice on Windows (10) PC/Mac. So that you can stream DVD movie to iPhone/iPad/TV with Air Playit perfectly.
Related Article
Wanna play M2TS/MTS on Android? Air Playit helps you streaming M2TS/MTS to Android without video format conversion. Free download the Android App. Share HD Camcorder recorded M2TS/MTS video with friends on Android.
iPhone iPad fans can stream MKV HD video on the fly with Air Playit. It is a video streaming App for streaming MKV to iPhone, iPad running no CPU. Here is a detailed of streaming MKV HD video to iPhone iPad.
Air Playit is capable of streaming almost all videos to iPhone/iPad via WiFi and 3G/4G network. With it, you will have access to a limitless number of movies at anywhere without waiting, and they take up no space on your iPhone at all.