Streaming Movie to iPhone – Watch unlimited movies on iPhone
You now truly live in an 'entertainment' world where people like to watch movies on protable devices anywhere, anytime. According to the latest rumor, iPhone becomes the most popular device. Its large 3.5-inch display makes a perfect fit for mobile movie watchers. Being a movie lover and an iPhone user, buying or renting movies from iTunes store will cost you an arm and a leg. You must know how to make use of your movie collection.
A new iPhone movie streaming app called Air Playit is now available as a free download from the App Store. Built in 320 different video/audio codecs, it is capable of streaming almost all videos to iPhone/iPad via WiFi and 3G/4G network. It acts as your personal audio video cloud. With Air Playit, you will have access to a limitless number of movies at anywhere without waiting, and they take up no space on your iPhone at all.
Air Playit is the simple solution to the complicated problem of streaming movie to iPhone. It works in two parts. A piece of server software sits on your desktop computer (both Windows and Mac OS are supported). The other component is an iPhone/iPad/iPod app that connects to the server, enabling you to stream movie to iPhone.
Step-by-Step Guide of Streaming Movie to iPhone
Step one: Download Air Playit Server.
After free downloading, run the server. You can click "Add Folder" to import movies from your local hard drive of your computer or choose "movies" after clicking "Import iTunes Playlist" to import movies from iTunes playlist.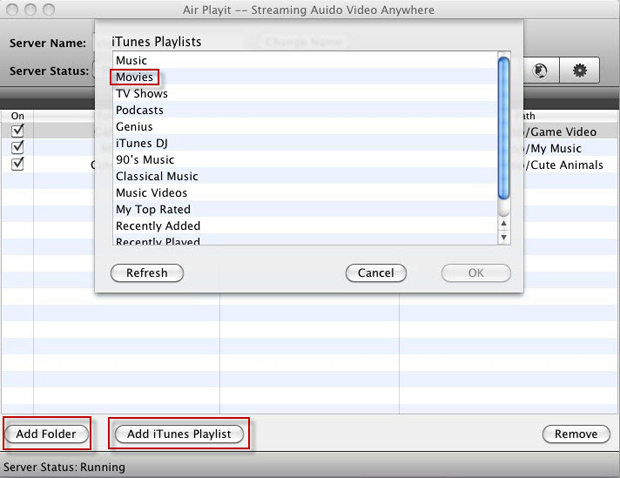 Step Two:Download and install Air Playit App Client onto your iPhone.
Air Playit will automatically find the server by Bonjour Service. In case that the Bonjour connection is not found or available, you need to specify the server address manually.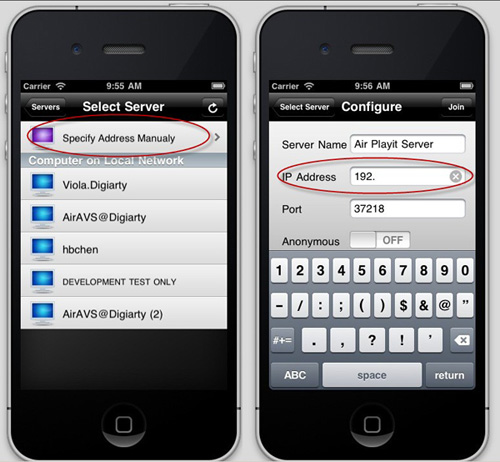 Step Three:Play the movie on your iPhone.
Browse the folders under the server, Click "Play" to watch movie on iPhone without format conversion. The built-in offline task manager makes it as a remote video converter. You can add video conversion tasks on your iPhone iPad, and then the converted video can be downloaded to portable devices for you to watch without the need of network connection.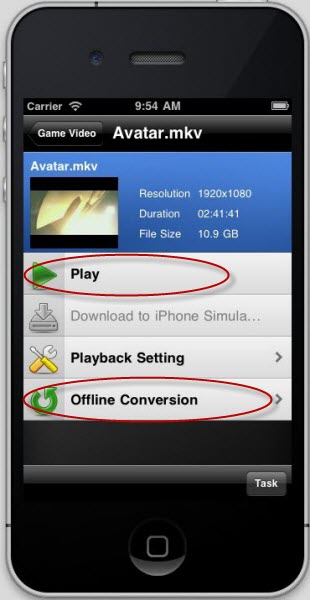 Related Article
Air Playit brings the coolest way to watch videos on iPhone iPad, streaming video from Mac to iPhone iPad without taking up space. So you never have to worry about the storage space not enough.
Just imagine, wherever you are, if you can connect to 3G/4G network, you're able to remote stream media to iPhone iPad from PC/Mac hard drive. No syncing, no tedious format converting and no space requiring. Yes, we're talking about Air Playit.