Stream Video to iPhone iPad Over Wireless Network
Who could have guessed even a few years ago that our beloved PCs would one day be a hub for movies, TV shows, music, digital photos and more? These digital entertainments bring us fun, but for many people it has also meant that their record collection is now trapped on a computer. Then, Apple idevices make video and audio files more portable, easier to manipulate anytime and anywhere. A few of us, however, want to watch video on our iPhone iPad if we can get away from home without lengthy conversion process waiting.
That's where streaming comes in. This is the process of freeing your media which are stored on your home PC in particular ways to stream to your iPhone iPad. What's particular way to stream video to iPhone iPad? That's where wireless network comes in. The wireless revolution has opened up a world of possibilities for communication, education and entertainment. Due to this epoch-making revolution, wireless video streaming becomes possible. Thus you'll simply connect your computer to iPhone iPad via Wi-Fi network or AT&T 3G, Verizon 3G anywhere. Any application could help us to do wireless video streaming task from one computer to iPhone iPad devices for free?
Air Playit does so. It is an app that streams video from PCs and Macs to iOS devices over Wi-Fi, 3G/4G wireless network. It'll re-encode on the fly to make virtually any format play nice with Apple's fussy gadgets, and you can choose to download those re-encoded copies to your device for local playback.
How to Stream Video to iPhone iPad over Wireless Network
Preparation beforehand:
Firstly download & install Air Playit server to PC or Mac, download and install Air Playit client on iPhone/iPad.
Step one:Run Air Playit server and you can add your video stored on your PC or Mac by clicking "Add Folder". You are also allowed to import video from your iTunes playlist to share.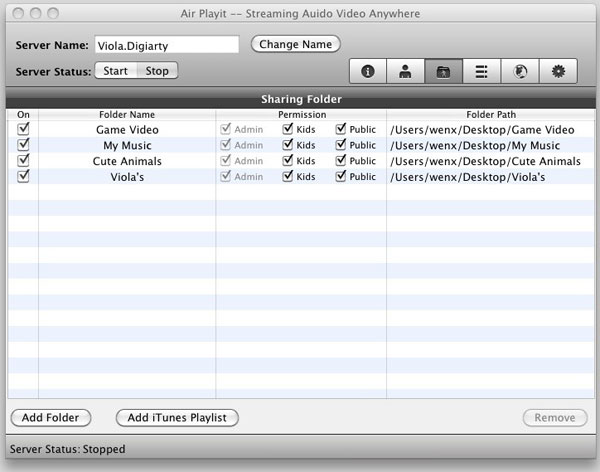 Step Two: Run the Air Playit App that has been installed on your iPhone iPad and add your server. Please make sure that your iPhone/iPad is connected with WiFi ,3G or 4G network. If the App can't find the server, you can add the server IP address and port manually. (Get the IP address and port on the main interface of Air Playit server).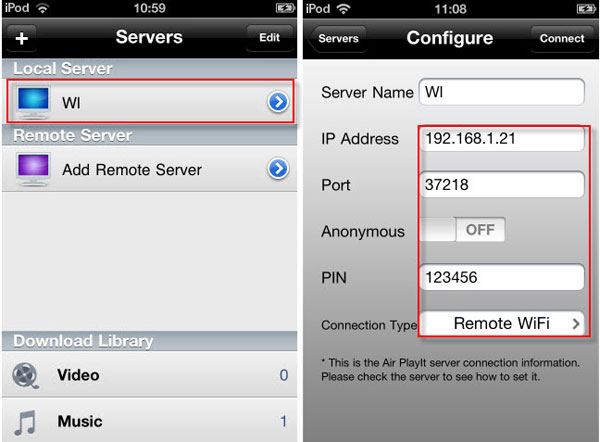 Step Three: Browse the folders under the server and tap the video that you want to play, click "Play" to finish all the steps to stream video to iPhone iPad friendly format over Wifi, 3G or 4G wireless Network.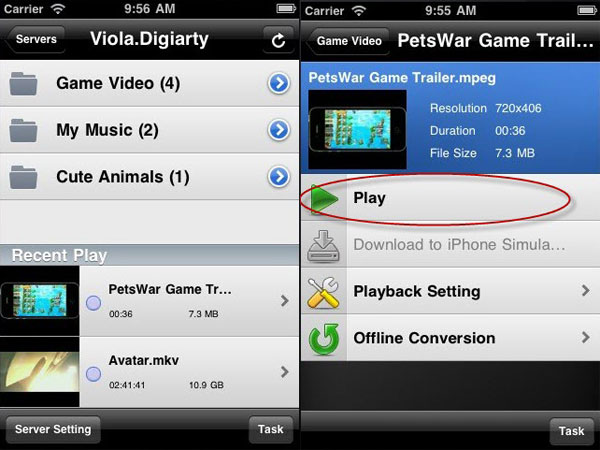 The wireless video streaming really brings us a lot of convenience and visual enjoyment in daily life. Moreover, you can stream audios to your iPhone iPad without having to syn. Just one tap, all music is automatically cashed so that you can play them at anytime and anywhere even no network connection. Very cool!
Related Article
Are you tired of converting the videos before you can sync them to iPhone iPad? Now a free application Air Playit provides exactly what you need- streaming video to iPhone iPad with WiFi 3G 4G network.
Air Playit acts as a remote video converter software. With the built-in offline task manager, you can add and manage video conversion tasks on your iPhone iPad, and download the videos to your devices via WiFi.