Streaming Video to iPad/iPad2 – Watch AVI FLV WMV video on iPad
iPad is undeniable an ideal device for watching video. But if you want to put the video stored on your computer on iPad, you have to turn to iTunes to sync the video. But it is impossible to sync video to iPad/iPad2 when your video is not readable by iTunes, not mention iPad, such as AVI FLV WMV.
So it is essential to convert AVI FLV WMV video to iPad/ iPad2 supported format like .MOV, .M4V or .MP4. In other words, if you want to play AVI FLV WMV video on iPad, you should do the following steps:
1. convert the video from AVI/FLV/WMV to MOV/M4V/MP4.
2. import the converted video to iTunes
3. connect iPad/iPad2 with iTune.
4. sync the MOV, M4V or MP4 video in iTunes to iPad/iPad2.
Wouldn't it be nicer if you are capable of simply streaming video to iPad/iPad2 without conversion or sync via iTunes from your PC or Mac and making it playable instantly on your iPad?
Air Playit - free video streaming App, is one of the best solutions for streaming video to iPad/iPad2. It helps you stream video in any format to iPad/iPad2 over local/remote WiFi, 3G/4G network so that you can watch your favorite video on your iPad wherever you go.
How to Stream Video to iPad/iPad2?
Before you start streaming video to iPad/iPad2, make sure you have installed the Air Playit Server on your PC or Mac, and the App Client on your iPad or iPad2. Then, you can make a video streaming on iPad as the following steps.
Step One: Launch the Air Playit Server on your PC or Mac. Click the "Add Folder" to add the videos you want to watch into the Shared Folders.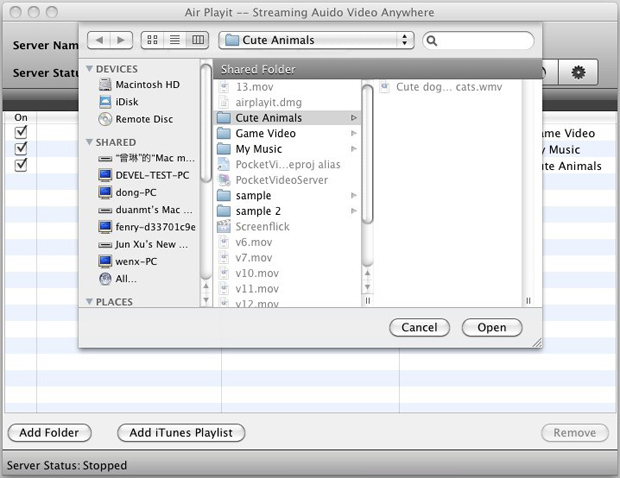 Step Two: Run the App Client on your iPad/iPad2. The App Client will automatically search the Server installed on your PC/Mac via local/remote WiFi or 3G/4G network. If the server can't be found, you can manually add the Server IP address.

After that, you can easily watch your favorite videos on iPad/iPad2, including AVI FLV or WMV videos which are not compatible with your device.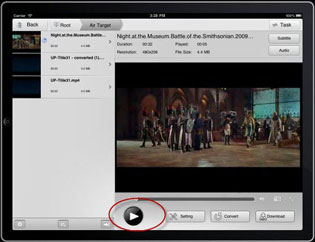 If you are looking for the easiest way to stream video to iPad/iPad2 so that you don't have to make a video conversion, Air Playit is definitely the way to go.
Related Article
Feel inconvenient to sync MP3 music from PC/Mac or iTunes Playlist to iPhone? Air Playit can help you put MP3 music to iPhone without sync by streaming MP3 music to iPhone iPad.
Want to stream 720p/1080p videos for watching HD videos on iPhone iPad instantly? Air Playit is capable of streaming all 720p/1080p videos, such as MKV, M2TS, AVCHD, MOD, EVO, etc, to iPhone iPad via WiFi, 3G, 4G network.