Bypass Sync in Apple iPhone iPad through Free Video Streaming Software
The sync operation of iPhone/iPad is troublesome, which may be fully agreed by the users of iPhone iPad who always have one or more opinions or experiences as follows:
- It takes time to sync several apps, so you have to wait;
- The synced apps take space, which may greatly affect the storage of your iPhone/iPad;
- Sometimes you only need to sync one app, but some other unnecessary apps are also synced to your iDevice compulsorily;
- You may lose some important apps, for example, funny movies and good music downloaded before, during the process of sync;
- You need to authenticate before sync the purchased apps, which is somewhat complicated;
- The use of iTunes is not available when you are not in front of the computer, so the sync operation also has high requirement in distance or location.
You may also have some other inconveniences of sync according to your own experiences. Luckily, you have a better choice to watch videos on iPhone or iPad, like streaming video to iPhone iPad to enjoy videos more directly and instantly.
A way to Get Rid of Sync - Try Video Streaming Software Free
In spite of so many inconveniences and limits in Sync operation, the zest for iPhone, iPad and iPod cannot be taken away. Actually, there is some alternative for Sync – why not try free iPhone/iPad video streaming software to bypass the annoying sync process?
Air Playit is free video streaming software for iPhone iPad which is capable of streaming audio and video to iPhone iPad via either local or remote WiFi, 3G/4G network to avoid the step of sync. Built in with 320 different video audio codecs in the Server and the App client, this free video streaming software can stream all videos to iPhone iPad so that you can watch them anywhere without any format conversion.
With Air Playit, you can get access to a computer at a distance like a remote control by means of remote video streaming and get access to a limitless number of movies and music at anywhere without waiting and taking space in your iDevice.
How Does Air Playit Work?
Generally, Air Playit comprises two parts – server software and app client. The former part is to dwell at your computer, while the latter one needs to be downloaded in your iPhone/iPad/iPod as an App connected to the server so that you can browse and play the videos both locally and remotely. Besides, this free video streaming software for iPhone iPad supports both Windows and Mac OS.
Step One: Download Air Playit server on your computer according to the OS edition of your PC (Windows or Mac), download Air Playit client on your iPhone/iPad, run the Air Playit server, add your video by clicking "Add Folder" or "Add iTunes Playlist" for further video streaming.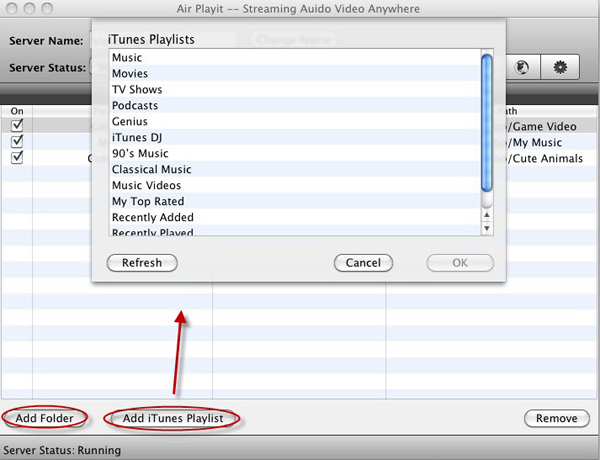 Step Two: Run Air Playit client on your iPhone/iPad, then the server will be recognized automatically in the presence of Bonjour, otherwise, input the corresponding IP address manually.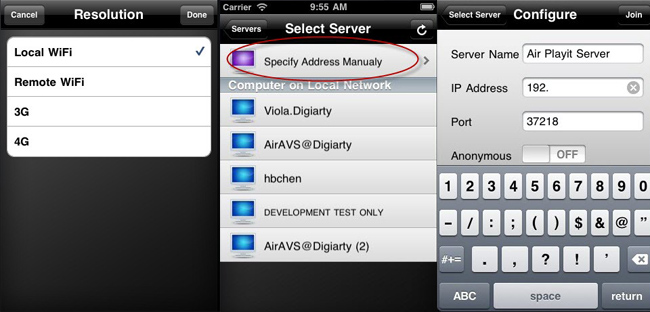 Step Three: Play videos through this free iPhone/iPad video streaming software right away.
The most competitive feature of Air Playit is playing unlimited videos on iPhone iPad without waiting. Because the live conversion function enables this free video streaming software for iPhone iPad to stream videos to iPhone iPad via Wi-Fi-, 3G or 4G.
Besides, you can also choose Offline Conversion so that you can play converted videos on iPhone iPad later when no network is accessible if you are on a plane or your free traffic is not enough.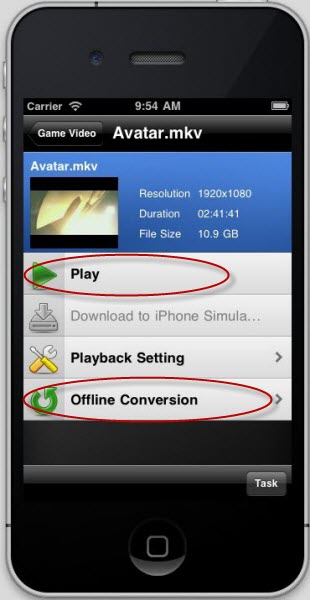 As free video streaming software for iPhone iPad, Air Playit even supports 1080p/1080i HD videos, accepts streaming almost all video formats such as MKV, M2TS, AVCHD and AVI. You can also adjust video quality and resolution in "Playback Setting".
Recommended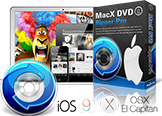 MacX DVD Ripper Pro is 2016 top DVD movie ripper that help convert DVD to MP4, WMV, MOV, AVI, etc. or directly to Android Samsung iPhone iPad Apple TV on Mac/PC with 36X faster speed and original video/audio quality, which makes it easy to stream DVD movie video to your iPhone iPad with free video streaming software Air Playit.
Related Article
Air Playit is a powerful & free video audio streaming software for iPhone iPad which helps you remotely play almost all videos audios on iDevice without conversion and sync by streaming video audio to iPhone iPad via WiFi/3G/4G network.
Do you have an iPod touch? Air Playit can help you enjoy movies and music by easily streaming video audio to iPod without the need of waiting for conversion.
Watch your HTPC video/music on iPad iPhone? Yes, Air Playit well serves the needs of people on business trip or commuting by streaming video music from HTPC to iPad iPhone.