Air Playit HD: streaming video & audio per iPad
Da oggi è possibile visualizzare in streaming qualsiasi filmato su iPad, iPhone e iPod Touch usando Air Playit HD. Tramite l'applicazione ed una connessione WiFi o 3G/4G, gli utenti possono riprodurre fino a 320 formati video e audio differenti.
Grazie a Air Playit HD non dovrete più convertire noiosamente i video che volete visualizzare, ma potrete immediatamente riprodurre sul vostro iPad qualsiasi file MKV, AVI, WMV e tanti altri.
L'applicazione offre anche un'interessante opzione di conversione. Il task manager offline, infatti, consente agli utenti di aggiungere e gestire le operazioni di conversione. Air Playit HD ha infatti la capacità di immagizzinare in file tutti i contenuti visualizzati in streaming, in modo da poterli successivamente riprodurre senza bisogno di una connessione WiFi o 3G/4G.
Grazie al server HTTP integrato, gli utenti potranno accedere a qualsiasi file audio e video salvato sul proprio pc o Mac da qualunque browser web. Inoltre, ogni streaming video su iPad o iPhone ha il pieno supporto dell'Apple TV.
Ancora, l'applicazione elenca automaticamente tutti i filmati riprodotti di recente con la possibilità di avviare il download da dove ci si era fermati precedentemente.
Vedere l'articolo originale a http://www.ipaddisti.it/air-playit-hd-streaming-video-audio-per-ipad.html.
Ricapitolando alcune caratteristiche di Air Playit HD:
• Supporta formati di file audio quali MP3, AAC, WAV e AIFF.
• Server HTTP integrato che supporta playlist in formato M3U.
• Server HTTP integrato che supporta playlist in formato M3U.
• Supporta la maggior parte dei formati video.
• Qualità e risoluzione di video e audio regolabile.
• Possibilità di spegnere il computer di casa remotamente.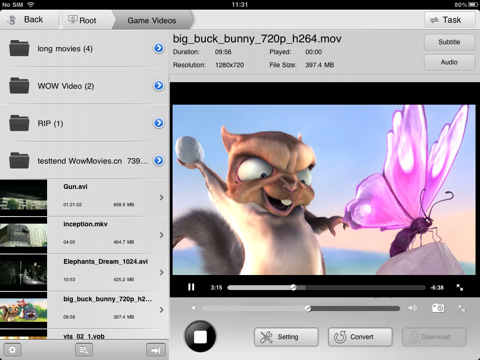 Air Playit HD è disponibile per iPad, iPhone e iPod Touch e può essere scaricato dall'App Store in maniera gratuita. Grazie all'ultimo aggiornamento l'applicazione è disponibile in 6 nuovi linguaggi tra cui proprio l'italiano.
Related Article
Do you have an iPod touch? Air Playit can help you enjoy movies and music by easily streaming video audio to iPod without the need of waiting for conversion.
Watch your HTPC video/music on iPad iPhone? Yes, Air Playit well serves the needs of people on business trip or commuting by streaming video music from HTPC to iPad iPhone.
Do you want to play music on iPhone iPad at anywhere without sync? Air Playit, a free audio streaming software will help you stream music to iPhone iPad via WiFi/3G/4G network. No syncing required.