Streaming DVD movie to iPhone iPad – New Way to Watch DVD on iPhone iPad
While watching DVD is a common activity performed by almost anyone, a majority of people generally play DVD movies with DVD player or computer, which means they have to be confined before the TV or computer for playing a DVD, yet the truth is you can change this situation and watch DVD movies in a more flexible way.
Just try brand new way- streaming DVD movie to iPhone iPad and watch DVD movies on your iPad or iPhone at any place. . To begin with, you should apply a DVD ripper to backup your DVD as MPEG-2 file to your PC/Mac, and then run a free video streaming software. Air Playit just does this for you. Air Playit works with a server and a client app to remotely access the DVD movie and constantly deliver and receive the streaming via WiFi, 3G or 4G network
Why should I choose streaming DVD movie to iPhone iPad with Air Playit?
* You can watch the DVD movie more flexibly with the Apple device.
* Air Playit offers real-time conversion while streaming video to the device, so you can watch the DVD movies stored on your remote computer on the go.
* Air Playit streams DVD movie via WiFi and 3G/4G network wirelessly to save you from syncing beforehand.
* The DVD movie is stored on your PC/Mac to take up no storage space for your iPhone iPad.
* You can download the DVD movie to your device for later playback when there is no network available.
Step-by-step guide on streaming DVD movie to iPhone iPad
Preparation beforehand:
Before streaming DVD movie to iPhone iPad, you should make some preparations.
Firstly, you should backup the DVD movie to the hard drive of your computer. For Windows users, the freeware WinX DVD Ripper is a nice solution that not only helps you remove copy protections from your DVD discs but also retains the best possible output quality. And it requires only few steps to get the DVD movie backup (click to see user guide). For Mac users, MacX DVD Ripper Mac Free Edition can make an ideal DVD backup for you (click to see user guide).
Secondly, download Air Playit and install Air Playit server your computer (both Mac and Windows are available) and Air Playit client app on iPad or iPhone.
Step one:Launch Air Playit server and add the video folder. Click "Shared folders" tab and then "Add Folder", browse DVD movie that you have ripped to your PC or Mac.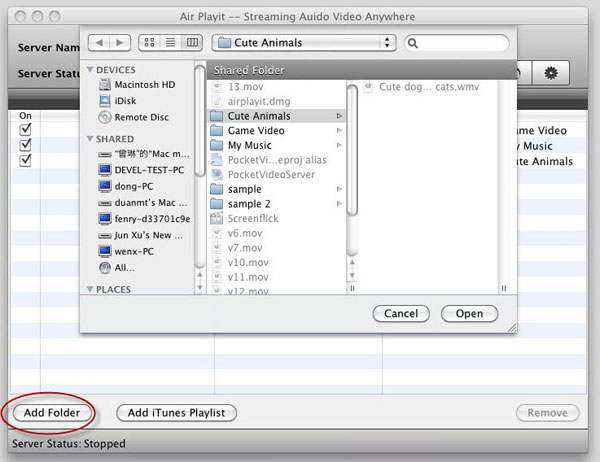 Step Two: Run the client app on your Apple device, add your server and tap it. Air Playit can discover the server by Bonjour Service. Failing that, you can input the required information like IP address, Port, etc manually.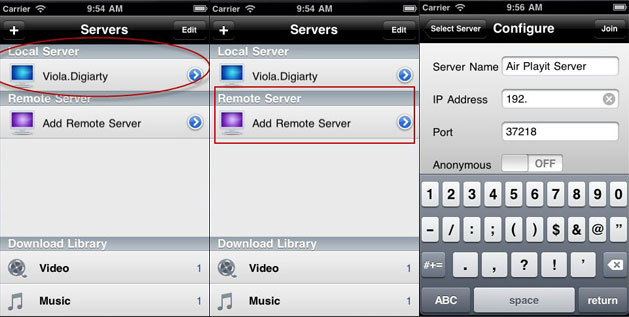 Step Three: Browse the folders under the server,tap the DVD movie folder which you want to watch and click "Play". Just watch the DVD movie on iPhone or iPad right away.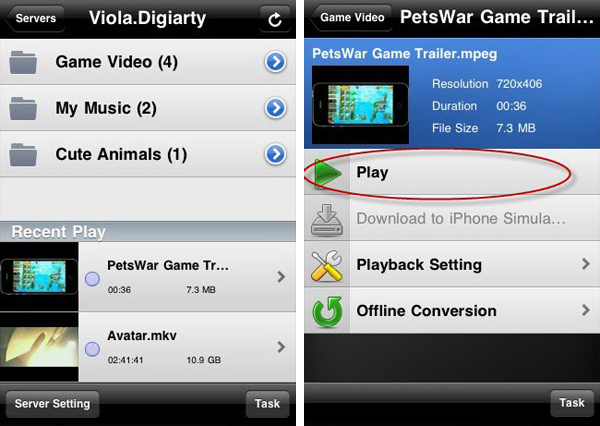 Related Article
Just imagine, wherever you are, if you can connect to 3G/4G network, you're able to remote stream media to iPhone iPad from PC/Mac hard drive. No syncing, no tedious format converting and no space requiring. Yes, we're talking about Air Playit.
Are you tired of converting the videos before you can sync them to iPhone iPad? Now a free application Air Playit provides exactly what you need- streaming video to iPhone iPad with WiFi 3G 4G network.