Stream Music & Video to Android, Play Audio Video Anywhere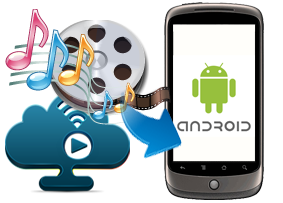 Digiarty Software today announced the availability of Air Playit for Android. It is a long expected move for the company to make this reputable audio video streaming app compatible with Google Android phones. Powered with advanced video streaming method and CUDA, Air Playit helps users stream and enjoy real-time playback of their music & video library from computer at anywhere, all media presented seamlessly on their Android phones via WiFi, 3G or 4G network.
Air Playit became an immediate hit when it just came into Apple App Store in Aug.2011. So far over 1 million users have downloaded this free application which revolutionized the way of watching video on iPhone iPad. Both video conversion and iTunes sync are skipped. DRM encrypted videos as well as 1080P/1080i HD videos such as M2TS, AVCHD, MKV could be streamed to iOS devices for instant playing over air.
"Numerous Thank You Emails arrived." said Jack, CEO of Digiarty. "In the mean time, we also got tons of inquiries on the release date of the Android edition of Air Playit." The reasons are obvious. 1) Google Android phones are rising quickly. Recent report showed that the 2011 market share of Android in the area of Smartphone is up to 60%. 2) The large and high resolution screen as well as fast processor make it the perfect mobile player for watching video on the go. 3) Android phone, however, supports relatively few video formats, only 3GP, MP4, H.264 and WebM.
Finally, long-awaited Air Playit for Android came out taking all well-received functionalities of its iPhone iPad editions. It acts as personal audio video cloud server & player which gives users immediate access to the media stored on PC/Mac even from thousands of miles away. 320 different video audio formats are supported for streaming to Android phones, e.g. MKV, M2TS, AVCHD, TP, MPEG-TS, AVC, MOD, MPEG1/2, WMV, ASF, AVI, MOV, RM/RMBV, FLV, MP4, H.264, M4V, WebM, WTV, etc.
Air Playit is a totally free app for streaming music & video to Android. Free download it at http://www.airplayit.com/
In addition, this Android video streaming app is upgraded with CUDA technology. The benefit is that users can play music and video on their Android phones remotely or locally without any delay, regardless of media format or file size. The ability of Multi-tasking Music Background Playback is also added which guarantees smooth music playing even in case of screen lock.
Android System Requirements:
Over 20 MB storage space
Cortex-A8 architecture, device supporting ARMv7 & NEON instruction set
ARM CPU 800MHz or above
Google Nexus One, HTC Desire Incredible EVO, Moto Milestone XT800, DroidSeries, Acer Liquid, Samsung Galaxy S, Sony Ericsson X10 ,Dell Thunder Streak, LG LU2300,Dopod A8188, Nexus One, Nexus S
iPhone iPad System Requirements:
iOS 4.2.1 and above
For the convenience of bloggers or website editors who may have interest in reviewing Air Playit, Digiarty also composed a PDF sheet with related images and text materials for reference:
http://www.airplayit.com/doc/AirPlayit18.pdf
About Digiarty Software, Inc
Established in 2006, Digiarty Software, Inc. is a professional developer and publisher of iPhone games and multimedia software, specializing in various types of iPhone games development and DVD video related solutions. Aiming at being the best digital media company, Digiarty is always devoted to continuous development and providing their customers advanced products and best services. Copyright (C) 2012 Digiarty Software, Inc. All Rights Reserved. Apple, the Apple logo, iPhone, iPod and iPad are registered trademarks of Apple Inc. in the U.S. and/or other countries.